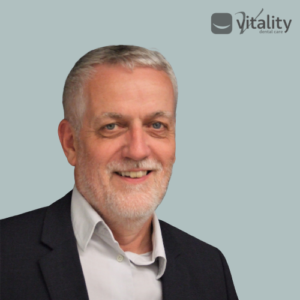 Ian Gordon
BDS N'cle 1984 MFGDP 2002 GDC No. 58968
Ian Gordon was born in Stokesley moving only when he gained a place at Newcastle Dental School from where he qualified in 1984. He returned to North Yorkshire before starting his own practice, The Dental Centre, in Eaglescliffe in 1989.
Ian expanded that NHS practice group to include practices in Middlesbrough, Martonside and Guisborough before leaving to establish Vitality with his wife Jayne in 2008 whilst at the same time establishing Alpha Dental Group.
Ian has been involved in Dental Politics and Vocational Training throughout his 35-year career – he is currently Chair of the North Yorkshire and Yorkshire regional Local Dental Committees and was previously Chair of the Tees LDC. Ian retains a clinical commitment on Tuesdays providing a wide range of dental treatment – he still particularly enjoys Endodontic treatment and provides Invisalign (clear braces) treatment at the practice.
Developing Vitality has been challenging but very rewarding and has resulted in the established 3 surgery practice we see today which offers routine care as well as advanced care from visiting implant dentists.
Ian has been delighted that so many colleagues have joined him at Vitality sharing the clinical treatment and therefore allowing Ian time to fulfil his other role as a Managing Director in the wider Alpha Vitality Group as well as providing dento-legal advice to one of the Dental indemnity companies. Alpha Vitality Dental Group which Ian established with 4 other partners in 2008 and now operates 12 practices from York to Chester Le Street. They have recently joined with Riverdale Healthcare, of which Ian is a Director, to expand the portfolio of practices in the North East and North Yorkshire.
Outside of work Ian lives in Osmotherley with his wife Jayne they have 3 older children. Leisure time usually involves travelling, meeting and entertaining friends and colleagues – Ian and Jayne have recently taken on a house renovation in Windermere and hope to establish the property as a holiday rental and retreat for themselves.
Vitality Dental Care - Stokesley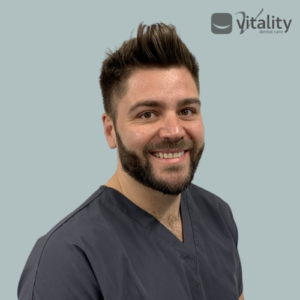 Guy Wells
BDS MFGDP GDC No. 85721
Originally from West Yorkshire, Guy graduated from Newcastle University in 2005 and remained in the North East to complete his Vocational Training.
Guy subsequently has worked within both the NHS and privately at practices in Northumberland and Teesside before settling with his wife and two children in North Yorkshire. Guy has been part of the team at Vitality since 2011.
Since qualifying as a dentist Guy has developed professionally by gaining his postgraduate dental diploma allowing him Membership of the Faculty of General Dental Practitioners (MFGDP UK) and has completed a large number of courses learning from world renowned dental lecturers to allow him develop and improve his skills.
Guy enjoys all aspects of dentistry but has a particular interest in minimally invasive cosmetic dentistry, preventative dentistry and helping nervous patients overcome their fears. He has also expanded his interest in orthodontics and has successfully completed the IAS Academy's Advanced Orthodontic Course.
Guy is happy to see regular patients, those requiring a one off cosmetic treatment and is providing more Orthodontic treatment both for NHS and Private patients.
Vitality Dental Care - Stokesley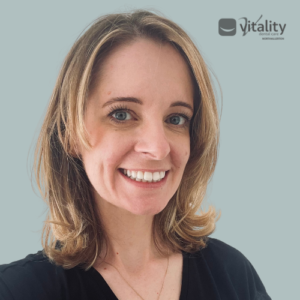 Claire Abbas
BDS MFDS RCS (Ed) Dip (Perio) GDC No. 103332
Claire decided that she wanted to become a dentist at young age after being inspired by her own caring dentist. Following her vocation, she qualified in 2006 from Newcastle University with a distinction in clinical dentistry. After qualification she completed the competitive General Professional Training 2-year programme at Newcastle Dental Hospital where she gained greater experience in more advanced procedures.
Having always enjoyed the rapport built up with patients as a general dentist, Claire returned to general practice. She joined the team at Vitality in 2015 where she now spends most of her working week providing routine dental care.
Alongside this she has continued to build on her experience with additional courses, receiving the Tipton restorative prize in 2010 and has completed courses on simple tooth alignment and composite bonding. Keen to provide her patients with the confidence of healthy smile, her interest in the management of gum disease and other gum related problems led her to carry out a diploma in Periodontology which she is due to complete in 2020.
Claire lives locally with her husband and 2 children. In her spare time, she enjoys running and baking, but most of all being with her friends and family.
"I have always strived to provide a high standard of care in a gentle, kind and compassionate environment. To me, a beautiful smile starts with a healthy smile! I enjoy getting to know my patients and helping those who are anxious overcome their fears with patience, care and understanding."
Vitality Dental Care - Stokesley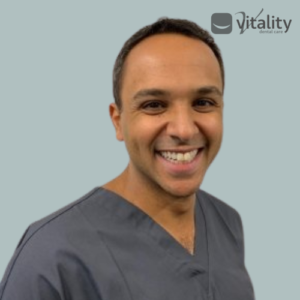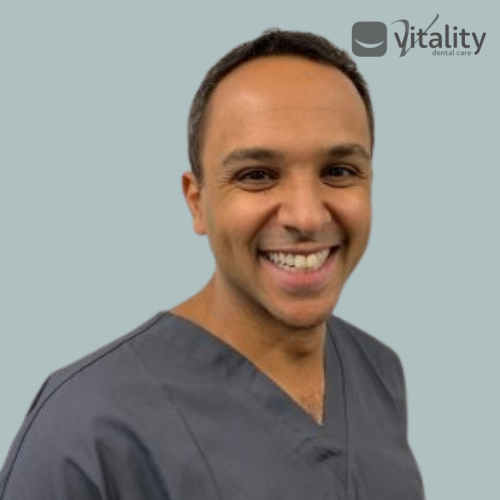 Haytham Abbas
BDS, MFDS (RCS Eng), Diploma Implant Dentistry GDC No. 101012
Born in Egypt, but raised in Hong Kong, Haytham moved to the UK to study dentistry in Newcastle, where he fell for the charm of the North East and he has lived in the area ever since!
After qualifying in 2005, Haytham started off his career in a competitive hospital training program which led him to focus on his interest in Oral Surgery. He spent the next 5 years gaining experience in a wide range of surgical procedures with the support of some of the finest consultants in Maxillofacial surgery. In 2010, he was given the opportunity to work in a large sedation based dental clinic. He gained vast experience treating hundreds of patients under sedation whilst carrying out a wide variety of dental treatments.Alongside his clinical commitments, Haytham enrolled onto the Warwick University Dental Implantology Diploma. In 2014 he was awarded his Diploma in dental Implantology and has since helped hundreds of patients regain their smiles and function with the aid of dental implants.
Haytham joined Alpha Dental Studio and Alpha Vitality Implant Clinic in April 2013. He provides sedation and implant treatment across Riverdale Healthcare's dental practices. Combining sedation and implants has enabled him to offer patients the possibility of being relaxed and comfortable throughout their implant journey.
When he is not working, Haytham enjoys spending time with his wife and two children and is a keen sportsman. A footballer at heart, he now mostly plays socially, but has also discovered a love for cycling and has taken part in several races and charity events.
"I find treating anxious patients very rewarding, my experience with sedation means I can provide quality care for patients who would otherwise be too nervous to have treatment."
"My experience with implants has led me to carry out a wide variety of treatments, from straight forward single tooth implants to complex full arch cases and I have found the results for my patients beyond what I would have imagined. The joy on my patients' faces when they return having been able to be confident in smiling or going out for meals is what I strive to achieve for every patient."
Vitality Dental Care - Stokesley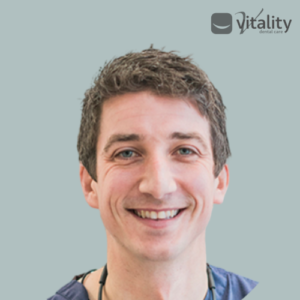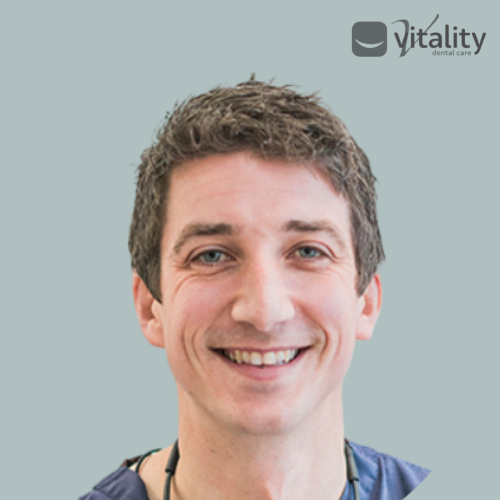 Nigel Suggett
BDS Dip Cert. Dent Imp GDC No. 103408
Nigel, studied at Sheffield University, graduated in 2006. He has a keen interest in cosmetic dentistry from early on led him to attend the Tipton Training Academy where he won an award on the Advanced Restoration course. Since 2013 he has also been involved with treating patients undergoing dental implant procedures and has completed the Practical Implant Dentistry Diploma under the highly respected Dr Ashok Sethi.
Nigel works closely with Ross Chapman of Chapman Dental Solutions to provide implant and fixed bridge solutions, all delivered in a single surgery in one day. Dr Suggett's wife Barbara is also a dentist. She works in the Community Dental Service treating patients who have special needs, are medically compromised or phobic.
Together they have two children, Phoebe and Lucy, and a cat called Milo. In his free time, Nigel enjoys playing golf and football and is a keen runner.Away from Seaham Smiles, Dr Suggett is also an assistant lecturer for the Northern Deanery.He also runs introduction events and mentorship for dentists new to using implants.
Vitality Dental Care - Stokesley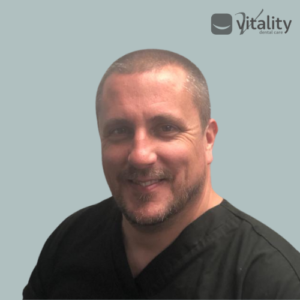 Mike Turner
BDS MSc Endodontics GDC No. 77939
Originally from the west coast of Lancashire, Mike qualified in 2000 from University of Liverpool. He went on to do his VT training in Birkenhead, staying as an associate for three years before a change of circumstances lead to a move to Newcastle. Working as an associate over two practices between 2004-2009, Mike developed a keen interest in Endodontics (Root Canal Treatment)
Mike moved to Teesside in 2010 to become an associate in Hartlepool, during this time he embarked on the MSc (Endodontics) course with SimplyEndo in Manchester. Over three years Mike completed his MSc, passing with merit with his dissertation "A survey of which main irrigant, delivery system and isolation methods are used by general dental practitioners in the North East of England", which you can read on request!!
Mike began to take referrals in Hartlepool in 2015 before branching out and starting regular private Endodontic referral sessions in practices in Whitley Bay and Whickham. In 2017 Mike was invited back to SimplyEndo to become a lecturer on the MSc course, which he now does on a regular basis.
Mike takes referrals for pain diagnosis, endodontic opinions and treatment planning, primary endodontic cases, re-treatments, post-removal, moderate instrument removal and prognosis planning. Mike is more than happy to chat to referring practitioners about their cases, offering an endodontic advice and trouble-shooting service.
Vitality Dental Care - Stokesley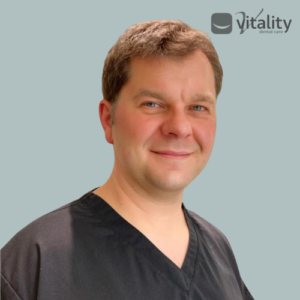 Ben Smith
BDS, MFDS (RCS Edin 2003) DipConSed, Implant (Warwick, Cert.) GDC No.79433
"Gentle" Ben Smith qualified in 2001, going on to acquire additional valuable postgraduate skills and experience through hospital and general practice training. During this time period, he developed an interest in helping people with anxieties and phobias related to their dental care, completed his core training in conscious sedation techniques and also gained his MFDS qualification at RCS Edinburgh in 2003.
Ben has worked in General practice and has become involved in research and in carrying out dental treatment on thousands of highly anxious patients using both his gentle manner and further honing his skills in conscious sedation techniques. Ben gained the Diploma in Conscious Sedation from the University of Newcastle upon Tyne in 2007 and has gone on to provide mentorship, teaching and training to both newly qualified dentists, general dental practitioners and also experienced dental sedationists.
Ben's ambition has always been to provide the highest level of all-round dental care for every patient - especially those with dental fears. He finds great personal satisfaction in taking the time to enable patients to overcome the barriers to their dental care and transform them from "a quivering wreck" to a confident patient, in control of their own dental health. Having the experienced hands and skills within the team to offer any necessary treatment puts our patients at the centre of their dental care and allows us to look after them as if they were a member of our own family.
Outside of work Ben loves to spend time at home in North Yorkshire or out and about in the Lake District with his wife and two young daughters - looking after their chickens and the family's nutty boxer dog. He has also been known to appear on stage and to sing and play the guitar – badly!
Vitality Dental Care - Stokesley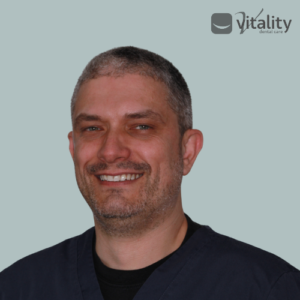 Stoycho Stoychev
BDS, GDC No.245420
Stoycho graduated from Medical University Plovdiv, Bulgaria in 2007. Early in his career he worked in a general dental practice gaining experience in a wide variety of dental treatments. After several years, Stoycho took on an internship in Maxillo-facial department of St. Anna Hospital in city of Varna, Bulgaria, expanding his knowledge and expertise.
Since moving over with his family in 2013, and making the UK his home, he has developed a keen interest in orthodontics, corresponding to the ever so increasing demand for aesthetic and cosmetic dentistry.
Stoycho completed the Advanced Orthodontic Program of IAS under the teachings of Prof. Ross Hobson, and is currently aiming to obtain his MSc in Orthodontics.
Away from the dental practice, Stoycho is a family man who likes to spend quality time travelling.
Vitality Dental Care - Stokesley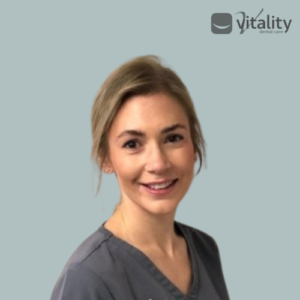 Donna Sharp
Dental Therapist GDC No.165040
Donna graduated from Teesside University as a dental hygiene therapist in 2013 with a BSc honours degree. She joined the Vitality team in 2016 and has since completed many additional courses to further develop her skills and knowledge, including inhalation sedation and implant maintenance.
As a hygiene therapist Donna can carry out hygiene maintenance, periodontal treatment, fillings in children and adults as well as extractions of children's teeth. Donna also sees patients on a direct access basis for hygiene treatments, meaning you can book in with her directly without needing to see a dentist first.
In her spare time Donna likes to go walking with her husband and two young children. Her favourite place to walk is Osmotherley cod beck!! Her wind down on a Friday evening after a busy day at work is a nice glass of fizz.
'I love every aspect of my role as a dental therapist but especially helping anxious patients overcome their anxieties and achieve their oral health goals. There is no better feeling than seeing patients return and they have taken on board information I have gave which has resulted in improvement in their oral health'
Vitality Dental Care - Stokesley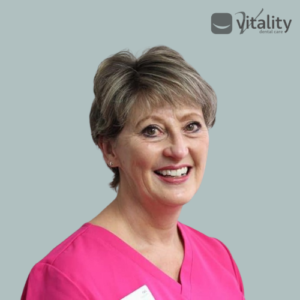 Janet Dimauro
Dental Hygienist EDH GDC No. 2650
Janet Dimauro EDH is our dental hygienist who joined The Dental Centre Group in 2005. Janet left to work in private practice but has seized the opportunity to work with us again in Stokesley.
Janet offers a range of hygienist services to ensure the great oral health, fresh breath and sparkling clean teeth!
Vitality Dental Care - Stokesley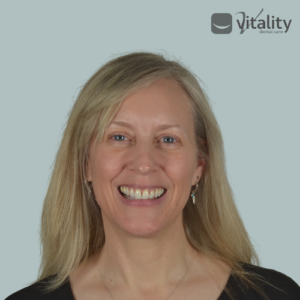 Tracey Swales-Williams
Practice Manager GDC No. 194974
Vitality Dental Care - Stokesley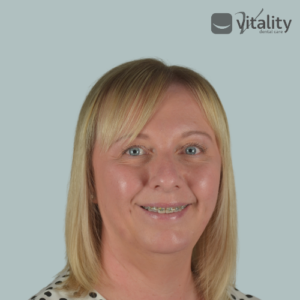 Emma Usher
Practice Support Manager
Vitality Dental Care - Stokesley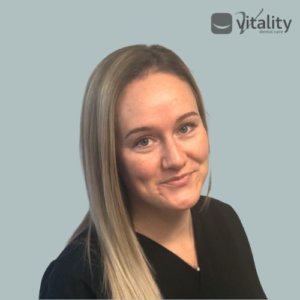 Katie Phillips
Treatment Coordinator GDC No.201528 Dental Nurse
Extended duties in Oral health Education, Fluoride Application, and Dental Radiography
Vitality Dental Care - Stokesley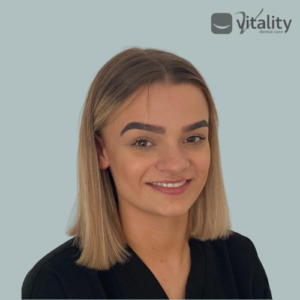 Jessica Jemson
Senior Dental Nurse GDC No. 291812
Vitality Dental Care - Stokesley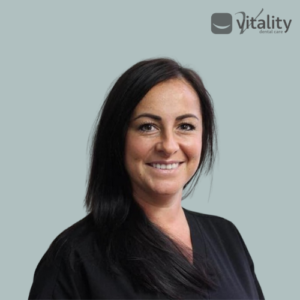 Elle Maxwell
Dental Nurse GDC No. 118449
Extended duties in Dental Sedation and Phlebotomy
Vitality Dental Care - Stokesley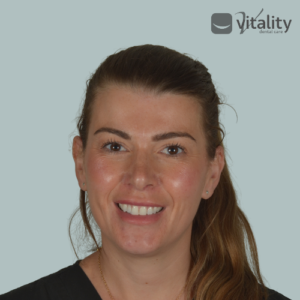 Jennifer Freeman
Dental Nurse
Vitality Dental Care - Stokesley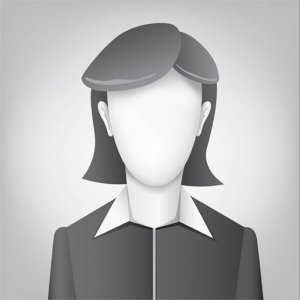 Jess Surtees
Regional Dental Nurse
Vitality Dental Care - Stokesley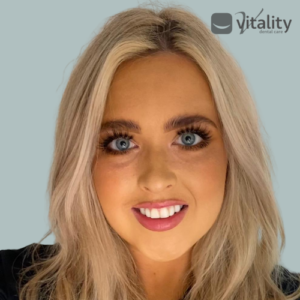 Felicity Wright
Dental Nurse
Vitality Dental Care - Stokesley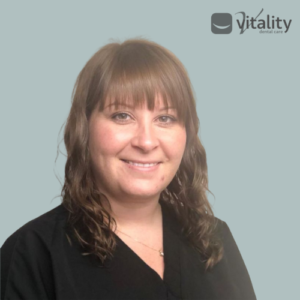 Faye Parker
Regional Dental Nurse GDC No. 125831
Vitality Dental Care - Stokesley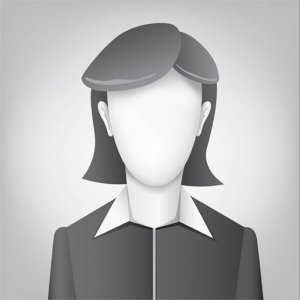 Jodie Foster
Dental Nurse/Receptionist
Vitality Dental Care - Stokesley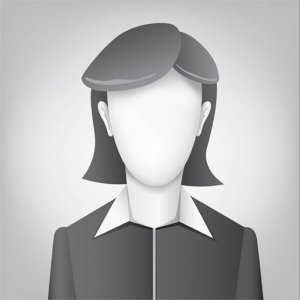 Jenny
Receptionist
Vitality Dental Care - Stokesley
The General Dental Council (GDC) are the governing body who set standards in dentistry which registered dental professionals must follow. They produce advice for patients including lists of questions you might want to ask during your appointments.
For further information you can can visit their website www.gdc-uk.org
By law, all dentists, dental nurses, dental technicians, dental hygienists, dental therapists, clinical dental technicians and orthodontic therapists who provide your dental care must be registered with the GDC.
GDC registration numbers of all of our team can be found above.
While on the GDC register you can expect dental professionals to keep their skills up to date through continuing professional development. They also need to meet gdc standards.
There are nine principles registered dental professionals must keep to at all times.
As a GDC registrant dentists must:
Put patients' interests first
Communicate effectively with patients
Obtain valid consent
Maintain and protect patients' information
Have a clear and effective complaints procedure
Work with colleagues in a way that is in patients' best interests
Maintain, develop and work within their professional knowledge and skills
Raise concerns if patients are at risk
Make sure their personal behaviour maintains patients' confidence in you and the dental profession