We welcome feedback from our patients
Below are a selection of the fabulous reviews our patients have kindly written.
We would be delighted if you have a couple of minutes to share your experience on our Facebook page or Google page.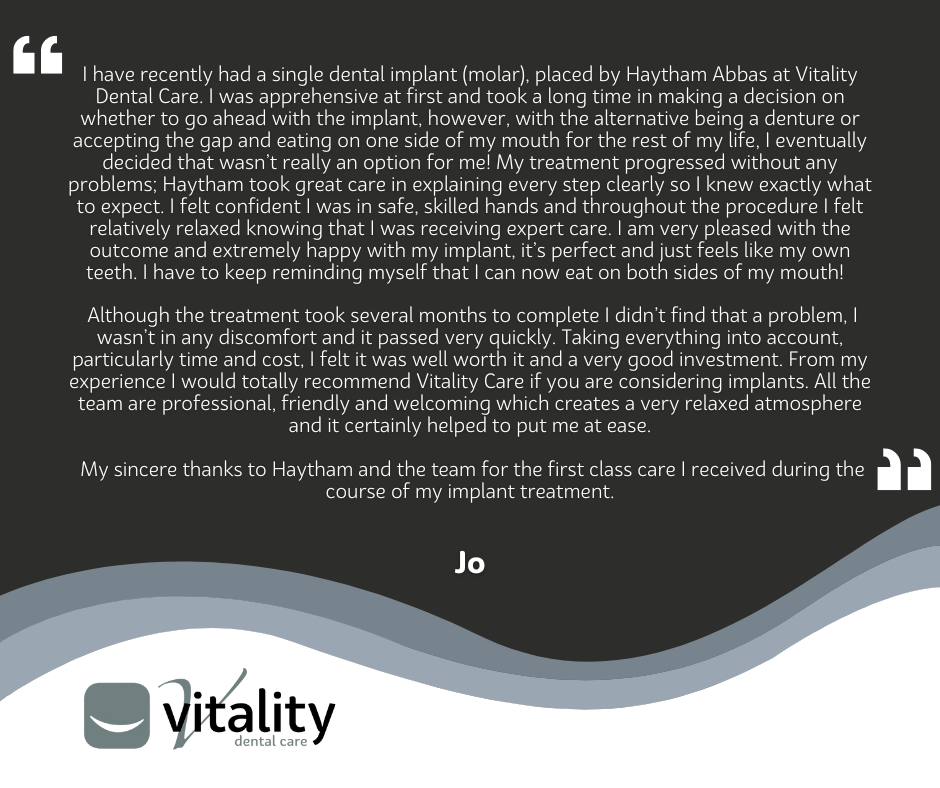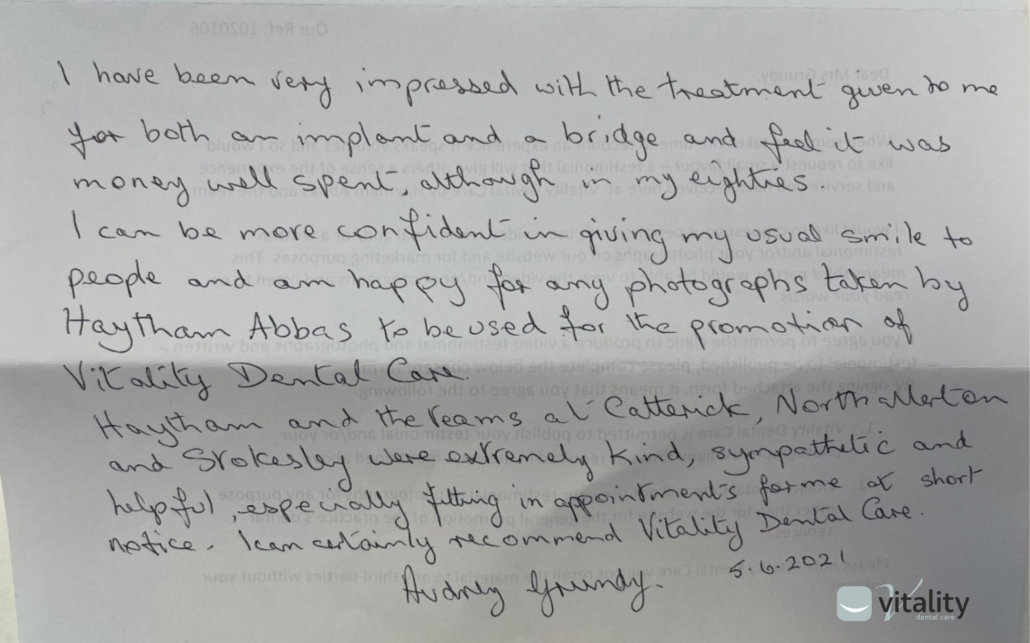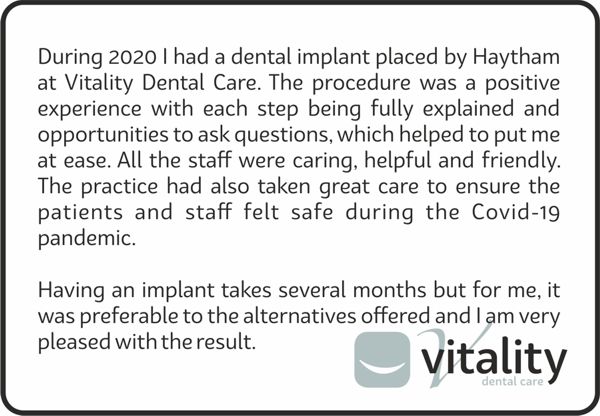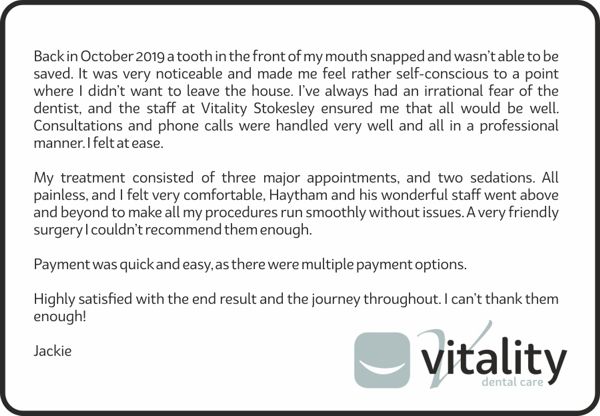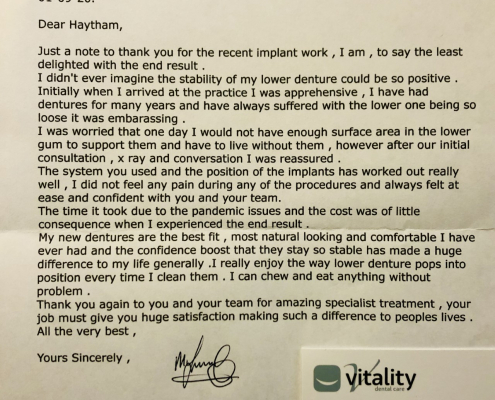 Christina, aged 46:
Dear Haytham and the team,

I had two missing molars on the top and bottom left of my mouth, as a result of two extractions over 20 years ago. I have never been keen on bridges and I have always struggled for time and to pluck up the courage to go through such surgery.

Dental implants have always been my preferred option. I travel extensively for work and I have had dental treatments in clinics in North Wales  and Liverpool. Vitality Dental Practice is by far the best private dental clinic I have experienced, exceeding my expectations. I have received detailed information and assessment prior to making the decision; the equipment is modern and tailored to my needs; dental procedure have been undertaken with care and empathy; appointments run on time. The two implanted molars look just as natural and healthy as biological teeth.

There are no hidden costs and payments are taken gradually as the treatment progresses. A dental implant at this clinic is an excellent value of money investment, professionally tailored to each individual's needs.
Ian M, says:
I visited your surgery today Friday 3/04/20. I have had a painful toothache for sometime and due to the situation, I was unable to attend my usual dentist in Stokesley.
I was looked after by Mike and Jess from Vitality Dental Care. I would like to thank them for their selflessness to help me.
They've gone beyond the call of duty. They're heroes and I truly commend them for their commitment and professionalism.
Thank you again Mike & Jess.
Mr McGreevy says:
After a visit to my own dentist I was informed that due to a problem with the root of my front tooth I would need a false tooth on a palate or an implant.
My dentist recommended Vitality Dental Care to discuss what my options would be, also to find the costs of any procedures.
I booked an appointment for a free consultation with Haytham Abbas in Vitality. From the very first consultation Haytham was very professional and made me feel at ease. He explained that the implant was my best option if I did not want a false tooth on a palate.
Haytham after an examination informed me the cost and how the procedure would progress. He gave me all the details in writing then said to me to have a think about it and get back to him.
There was no pressure to say yes, and this is what made me decide Haytham was the person who would carry out my treatment.
Since having the treatment I feel more confident when eating not thinking my tooth is going to be dislodged.
The treatment in all took over 12 weeks, however this was explained at the first consultation. It is not a cheap procedure but one I feel was worth the money and the time.
My advice to anyone looking to have this procedure is to book an appointment with Haytham and his team. I cannot recommend him highly enough. His dentistry work is first class and very professional. He makes you feel you are his only patient. From the start to the finish of the
treatment the whole customer experience was excellent.